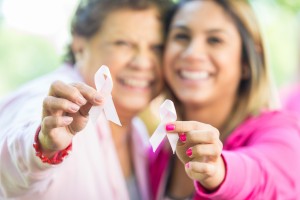 Each October women are reminded of the importance of early breast cancer detection.  Breast cancer is the second most common type of cancer in women, following skin cancers.  A mammogram is the best way to detect breast cancer in the early stages, when it is easier to treat.  Women of any age can develop breast cancer, so it's important to be aware of risk factors and proactive about health care decisions.
Most women who develop breast cancer have no family history of the disease.  However, a woman's risk does increase if she has a first-degree relative (mother, daughter, sister) with breast cancer.  Having multiple other family members with the disease on either the mother's or father's side of the family also increases the risk.  Given this family history, even very young women can develop breast cancer.
According to the Centers for Disease Control (CDC), other risk factors for developing breast cancer include the following:
Age–  The risk increases after age 50.
Taking Hormones–  Hormone replacement therapy during menopause can raise the risk.
Reproductive history–  Having a first pregnancy after age 30 or never being pregnant increases risk.  Early menstruation (before age 12) or late menopause (after age 55) exposes women to hormones longer, increasing their risk.
Dense breasts–  Dense breast tissue makes cancers harder to detect and raises the risk level.
Genetic mutations–  Inherited changes to specific genes such as BRCA1 and BRCA2 increases risk.
The best breast cancer screening tool is a mammogram.  It can detect cancers that are too small to be felt or cause symptoms.  The American Cancer Society recommends that women of average risk begin annual screening mammograms at age 45.  Some doctors recommend mammograms at age 40, depending on risk factors.  After age 54, a woman who has not had any abnormal mammograms can continue to have a mammogram every other year through age 74.  Women who have higher than average risk factors for the disease should follow the recommendations of their health care provider.