Time for Annual School Physicals
With summer winding down, it's time to schedule an annual school physical for your child.  Making an appointment before the child returns to school gives everyone more flexibility in scheduling a time that works best.  Many health changes can occur over a year's time, so it is important for parents to keep the doctor informed.  The annual physical exam is an excellent opportunity for parents to ask specific questions about their child's health.

An annual school physical helps safeguard the health and well-being of your child.  Both young children and teens should have one.  A sports physical is not an adequate substitute because it typically screens for risk factors that could trigger problems during strenuous physical activity.  An annual school physical tracks the child's healthy, age-appropriate development.  It focuses on whether normal developmental milestones are met.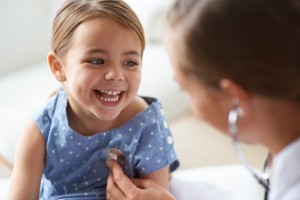 Your child's health care provider will measure height and weight, check blood pressure, and evaluate the heart, lungs, and other body systems.  There may also be a basic vision and hearing screening.  A referral to an ophthalmologist will be made if the vision screening indicates a need for glasses.  Your child's vaccinations will be updated to keep them current.  If your child takes medication, uses an inhaler for asthma, or needs an EpiPen, the school may require a new prescription each year.
If the child is entering pre-K or kindergarten, the doctor will need to sign the required immunization form.  If you have moved to Georgia from another state, your child's doctor can determine whether Georgia requirements have been met.  Some immunizations will have been completed before school age.  However, depending on when the last vaccines were given, the child may need a booster for DTP, polio, MMR, varicella, or Hepatitis A before entering school.  A Certificate of Immunization will need to be on file at school within the first thirty days.  If there are religious or temporary medical exemptions, the parent must complete those required forms.
Call today to book an appointment.  The schedule fills up quickly in the days before schools open.