Who Should Receive the Pneumonia Vaccine?
Pneumonia is an infection of the air sacs in the lungs.  One or both lungs may be affected.  Pneumonia is usually caused by bacteria or viruses but can sometimes be caused by fungi.  It is a serious infection for infants, the elderly, those with chronic health issues, and people with compromised immune systems.
What are the symptoms?
Symptoms of pneumonia include fever, chills, cough, shortness of breath, and chest pain when coughing or breathing.  The infection may cause confusion in elderly patients as well as a body temperature that is lower than normal.  Pneumonia can follow a cold or the flu.  Bacterial and viral pneumonia can be spread from person to person through coughing and sneezing.
Who Should Get a Pneumonia Shot?
It is not necessary for healthy adults under the age of 65 to get pneumonia vaccines.  It is recommended that adults age 65 and older receive the vaccines because it is harder to fight infections as we age.  People with weakened immune systems should also be vaccinated.  This includes those with chronic diseases such as heart disease, diabetes, lung diseases, and asthma.  Cancer patients who are undergoing chemotherapy treatments should be vaccinated.  Smokers should also receive the vaccine.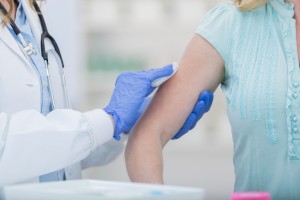 There are two types of pneumonia vaccines that protect against different types of pneumonia.  The PCV13 shot , which protects against the most serious types of pneumonia, is given first.  A year or more later, the PPSV23 shot is given to protect against additional types of pneumonia.  There are no serious side effects from either shot, and people cannot get pneumonia from the shot itself.  The vaccines are 50-70% effective, and they protect for years.  People receiving the shots at age 65 and older will most likely be protected for the rest of their lives.
Speak with your doctor to see if the pneumonia vaccine is right for you.