February is National Heart Month
The American Heart Association has designated February as National Heart Month.  This draws awareness to the fact that heart disease is the leading cause of death for both men and women in the U.S.  One in four people die from heart disease, and the risk increases as we age.  Blockages made up of plaque in the arteries or a blood clot cut off blood flow to parts of the heart, leading to heart attacks.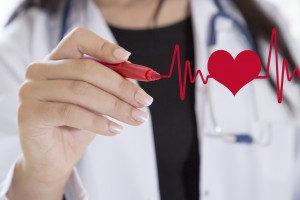 Some of the risk factors contributing to heart attacks cannot be controlled, such as family history or age.  Other risks can be managed through healthy eating, losing extra pounds, exercising regularly, and not smoking.  Regular medical check ups allow your physician to monitor your health and help keep your risk factors under control.  High blood pressure, high cholesterol, high triglyceride levels, and diabetes all contribute to heart disease but can be effectively controlled by lifestyle changes or medication.
Being aware of common symptoms of a heart attack can save lives.  Here are the warning signs that call for emergency treatment.
Chest Pain
This pain or discomfort doesn't resolve after a few minutes.  It may feel like an uncomfortable pressure or squeezing in the chest area.  The pain will sometimes go away and then return.
Pain in the Upper Body
Symptoms may manifest as pain or discomfort in the neck, jaw, upper back, upper stomach, and one or both arms.
Shortness of Breath
This may occur with or without chest pain.
Nausea or Lightheadedness
Other related symptoms are vomiting, fainting, breaking out in a cold sweat, or extreme fatigue.  These symptoms tend to be more common in women experiencing a heart attack.
Don't make the mistake of dismissing heart attack symptoms as acid reflux, indigestion, or the flu.  If you think you or a loved one is having a heart attack, get emergency help immediately by calling 9-1-1.  Early intervention can save lives.