What Is Gluten Intolerance?
Over the past several years, you may have noticed an increase in the number of gluten-free products on grocery shelves.  More and more restaurants are featuring gluten-free options on their menus.  This recent awareness surrounding gluten and its effects on many people has led to questions such as these:  What is gluten?  Where is it found?  Why are some of us adversely affected by it?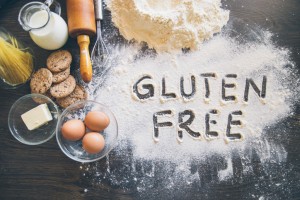 Gluten is a protein found in wheat, barley, and rye.  Individuals with gluten sensitivity, or gluten intolerance, have difficulty digesting gluten.  Symptoms of gluten intolerance usually include gastrointestinal issues such as stomachache, gas, bloating, and diarrhea, as well as other side effects like fatigue, headache, and 'brain fog'.  Additionally, some individuals may experience nausea, joint pain, and skin problems.
A sensitivity to gluten is not the same as an allergy to wheat.  Symptoms of a wheat allergy can be life threatening and require immediate medical attention.  Severe reactions can include hives, irritated eyes, blocked nose, and difficulty breathing.  Gluten intolerance is not as severe a condition as celiac disease.  This autoimmune disorder has many symptoms similar to gluten sensitivity, but celiac disease leads to inflammation and destruction of the lining of the small intestine.
All of these conditions may requiring adhering to a gluten-free diet.  This means eliminating foods containing wheat, barley, and rye from the diet.  Common foods that would cause problems include bread, cereal, pasta, crackers, cookies, baked goods, fried foods with breaded coating, and beer.  However, gluten may also be found in a surprising number of unexpected foods like ice cream, soups, gravy, soy sauce, hot dogs, malt vinegar, salad dressings, veggie burgers, and vitamin supplements.  Wheat is often used as a thickening agent or filler, so product labels should be carefully read.  Gluten-free breads, pastas, and baked goods usually contain an alternative to wheat such as rice flour or quinoa flour.
If you are experiencing any symptoms that might indicate gluten intolerance, see your doctor.  Tests are needed to diagnose the extent of the gluten issue.